Posted by Dimitra Designs on Jul 31st 2018
Shopping for your bridal gown should be a wonderful time during your engagement. There's nothing quite like the thrill and delight of trying on the perfect gown for the first time. At Dimitra Designs, we're lucky enough to get to share that experience with you. We've seen the highs and the lows that can come with wedding dress shopping. It's natural for many brides to be nervous, and even feel overwhelmed at the process. But it doesn't have to be that way! If you take some time to plan out the experience, you'll have a wonderful time!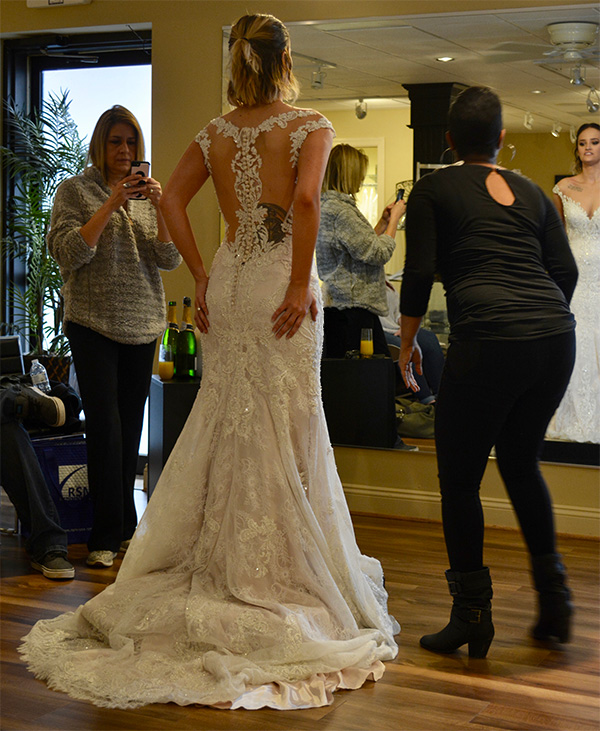 Dress appropriately. Wear comfortable clothes that are easy to take on and off. Also, choose a good set of support/shape wear for the day. It doesn't have to be exactly what you'll wear on your wedding day, but a good bra is a must for you to really see how the dress is supposed to fit.
Bring your nearest and dearest. It's helpful to have a few people with you while you try on dresses, but know when to limit yourself. If you're not used to the limelight, you might find yourself overwhelmed with your entire bridal party watching you. Choose just 2 or 3 trusted friends and family members to help you.
Bring a list. You've been eyeing up bridal gowns for months, so start writing down your favorites! If you have a list, call the salon ahead to find out what lines they carry. You can remove the ones they don't and double check the lines they do carry to see if there's anything else you'd like to see.
Be adventurous. Maybe you're convinced that an A-line strapless gown with a chapel length train is the way to go. But if the consultant suggests you try a trumpet gown, or even a short gown, go for it! You might be surprised at how much you like some of them.
What advice do other brides have for first time dress shoppers?