Posted by Dimitra Designs on Jul 30th 2018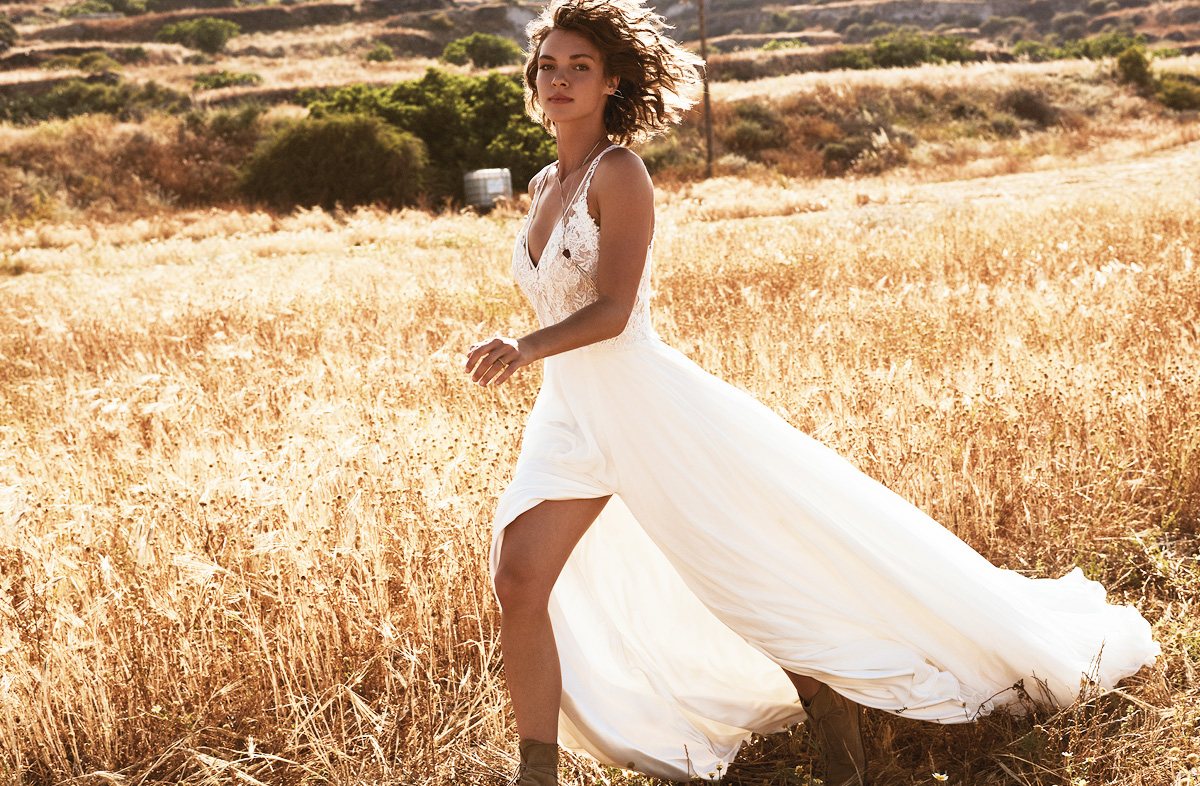 It goes without saying that trends change. This applies across the board, from hairstyles to jean cuts, to paint colors for kitchens. Most of us have personally seen more than a few waves of major style changes, and have been around long enough to see what almost inevitably happens happen yet again: We have seen things be in style, then out of style, then back in style again! And two areas we're seeing precisely that in wedding trends are with bateau wedding dresses and tea length wedding dresses.
Feminine & Flattering: Tea Length Wedding Dresses and Bateau Wedding Dresses
The bateau neckline, also known as a boat neck or Sabrina neckline, runs horizontally across the collarbone, elegantly enhancing the shoulders. While certain bateau wedding dresses can be flattering for women with larger busts, with some choosing this style for its fashionably modern take on modesty, bateau wedding dresses are most often sought out by petite women with a smaller or average bust. Most opt for bateau wedding dresses not to cover their chests, but because the cut is quite classy and classic. Drawing more attention to the arms and shoulders, this is an especially loved style for women who want to highlight those areas of their body.
As for tea length wedding dresses? Well, those are loved by women of all shapes, sizes and heights! Personally, I adore tea length wedding dresses, so may be a bit biased in my take, but I find them to be the absolute epitome of charm. One's wedding day is among the happiest days of their life, promising their love to the man or woman of their dreams, surrounded by friends, family, dancing and cake. What's not to love? And I find that cheerful energy of love, light and life is captured perfectly in a tea length wedding dress. Don't you?
Light Pink Wedding Dresses & Champagne Wedding Dresses
There are countless reasons women cite for choosing a different color wedding dress than traditional white, not the least of which is that there are so many other tempting shades of sheer beauty to consider! In recent years, colored wedding dresses have become much more common. While white wedding dresses are still the most popular by far, it is no longer a surprise to see brides-to-be considering light pink wedding dresses, champagne wedding dresses, baby blue wedding dresses, or other soft shades of peach, yellow and green. Of course, some women steer further away from white with red or even black, though softer colors are more the norm.
The draw to light pink wedding dresses and champagne wedding dresses is easy to understand. White can be a much trickier color to wear than either of these elegant shades, both of which look beautiful against all skin tones, and with all hair colors. There is a softness to pink and champagne that is sweet, feminine, and positively pretty – all things most brides would love to highlight on their wedding day! And then, of course, there are the spectacular styles. With champagne wedding dresses and light pink wedding dresses being among the hottest wedding trends, designers are dreaming up stunning new creations to bring these colors to life like never before.